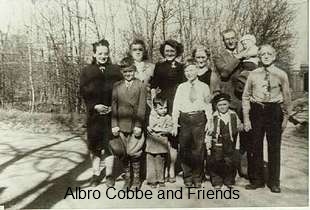 Check out the new Albro News & Events Page.
Thank you for visiting The Albro Genealogy Pages. The main reason for this site was to try and tie the Western New York and other Albro's in with the rest of the clan.
After several years we find that we have become a major Albro site, so with that in mind, we will be putting more information about other Albro families on the site.
Our own, Western New York Albro family just appeared in Western NY, with no apparent ties to the other Albros in the area. There are other Albros, in Busti, Ny., around Cortland and Syracuse, Ny. and in upstate near Ellisburg, Ny. However, even though there are some of the same names (Oliver, Oscar, etc.) we still have found no concrete link from one to another. The Oscar Albro from around Syracuse (whose father was Oliver) had a near fatal accident on a canal that would have left a very prominent scar on his neck. If we could find a picture or reference to our Oscar, that mentioned this scar or accident, that would be the clincher. So far, we've never seen a closeup picture of Oscar. But, we continue our search. We are still searching for the death and burial places of Legrand Rowe and Oscar Barney Albro.
In September (2014) we spent a week camped south of Jamestown, NY. about one mile from the PA. line. While we were there we did some Genealogy research in Warren, and Kellettville, PA. I have made a page dedicated to the information we gleaned from the Kellettville trip.
We are working on the ALBRO family tree as it pertains to these locations and ancestors. We're also researching the following surnames; COBBE, LAFFERTY, ROWE, MONTGOMERY, EAKIN, THOMPSON, STONE, BURROWS, SIMPSON, HERPST, THOMAS, WEAVER and ADAMS in the PA, MD, MICHIGAN, NY, and OH, areas.
We are also interested in Doxey, White, Beverley and related families.
We would like to thank the many generous patriarchs of our family. Without whose help and firsthand information, this site would not be possible. Many of the pictures here are irreplaceable, and a very special thanks goes out to those who let us borrow them long enough to have copies made.
Please, browse these pages and if you come across a familiar name, someone in your tree, let us know. Maybe we can help each other.
We have some pictures of unknown people in our collection. They can be found on the Unknowns photo page. We sure would like to be able to put a name to the faces. Can you help?
---
Several years ago, I was the webmaster for the Florida Trails to the Past website.
I wrote a short article about How to Survive in Florida in 8 easy lessons.
Recently, there has been some interest in it, so here it is for your amusement/Information. How to Survive in Florida
---
---

MyCinnamonToast Surname Search





Need some help finding your Ancestors
in New York State?

Do You have a business in SW NY State or NW Pa?

Economical and Effective
---
Disclaimer: Although much of the information contained in this archive has been verified with other documents, there are many places where "Family Folklore" is all we have. The entire risk as to the accuracy and the reliability of the information on this site is assumed by the user, and in no event shall "Albro Genealogy" be liable for any consequential, incidental or direct damages suffered in the course of using the information in this archive.
The information contained in this archive may be freely used by anyone, however, it would be nice to have a link back to us if it is put on another site.
© 2009 - Albro Genealogy.
---