M
ahala Weaver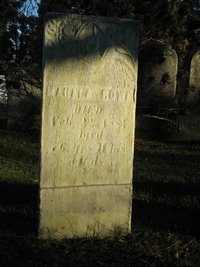 Home: NY.
Occupation: Homemaker
Born: 3 Oct 1807 Otsego Co. NY.
Died: 22 Feb 1883
Spouse: Nathan Rowe
Marriage Date: July 4, 1827 ?
Father: Christopher Weaver
C
hildren:
Fidelia Rowe b. 4 June, 1833; d. 1833 died in infancy
Levi Rowe b. 11 December, 1834; d. 28 October, 1845 Buried in Highland. No Marker.
R
eferences:
History and Genealogy of a Branch of the Weaver Family. By Lucius Weaver. Rochester, 1928. (found on Ancestry.com)
Historical and Biographical History of the Township of Dayton, Cattaraugus Co. NY.
1880 United States Census.
Highland, Cherry Creek Cemetery Records.
N
otes:
Most sources have the name Mahala with no "i", however, the article from Township of Dayton, NY. has it spelled Mahalia. Her Tombstone has it just readable as Mahala. Buried in Cherry Creek Central Cemetery, NY. (Highland). Her family has been traced all the way back to England.
---