US Stricom Obituaries
Much thanks to Mike Smith for sending this info:
Enos Marquez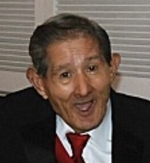 2/1/1934 - 10/25/2015
Bay City, Michigan
Mr. Marquez passed away Sunday, October 25, 2015 at his home, age 81. He was born February 1, 1934 in Saginaw, Michigan to the late Joseph and Cayatana (Marin) Marquez. He married Joanne F. Trudell on February 3, 1968 and she survives him.
Enos graduated from Saginaw Valley State University and was a veteran, serving his country with the US Air Force as a radio operator during the Korean Conflict and Vietnam Era. He was a member of the DAV and always opened his heart to those in need. Enos was very generous and helpful to the less fortunate and will always be remembered by his large smile.
Surviving besides his wife Joanne are four children: Siena G. (Ace) Neering, Anthony I. Marquez, Teresa M. (Larry) Humes and Regina A. (David) Hunt, five grandchildren: Rosemari (Marcus) Velasquez, Julie A. Foco, Rondie A. King, Jesse C. Humes and Leah L. Humes and one brother, Frank (JoAnn) Marquez. Enos was predeceased by his brothers: Lupe, James, Joseph, Jesse and Freddie Marquez and his sisters, Antonia (Toni) Marquez and Maria Off.
A gathering of friends and family to celebrate Enosí life will be held Saturday, October 31, 2015 from 12:00 noon to 4:00 pm at Bangor Township Hall, 3921 Wheeler Road, Bay City, MI 48706. Military Honors, under the auspices of the Bay County Veterans Council will take place at the hall at 4:00 pm.
The Marquez family would like to thank all the staff at the Aleda E. Lutz VA Medical Center in Saginaw and Compassionate Care for their devotion and care they gave Enos and his entire family.
www.squiresfuneralhome.com
---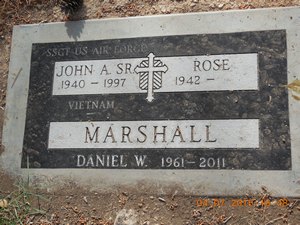 John A. Marshall
Birth: Jan. 19, 1940
Peoria, Peoria County
Illinois, USA
Death: Jan. 22, 1997
Phoenix, Maricopa County
Arizona, USA
PEORIA -- John A. Marshall, 57, of Phoenix, Ariz., formerly of Peoria, died Wednesday, Jan. 22, 1997, at the home of his daughter, with whom he resided.
Born Jan. 19, 1940, in Peoria to Henry and Emma Gay Marshall, he married Rose Caldera on June 19, 1959, in Phoenix. She survives.
Also surviving are two sons, Daniel of Bonney Lake, Wash., and John A. Jr. of Phoenix; three daughters, Diane Duran, Mrs. Dan (Kathy) Ortiz and Mrs. Antonio (Terri) Mesa of Phoenix; ten grandchildren; one sister, Mrs. Roger (Barbara) Kleist of Peoria; one brother, Donald of Fountain Valley, Calif.; and several nieces and nephews.
He was preceded in death by one brother.
He retired as a staff sergeant from McClellan Air Force Base in Sacramento, Calif.
Graveside services were Jan. 24 at St. Francis Catholic Cemetery in Phoenix, where military honors were accorded by the U.S.A.F. Honor Guard from Luke Air Force Base in Litchfield, Ariz.
Journal Star (Peoria, IL) - February 5, 1997
Burial: Saint Francis Cemetery
Phoenix, Maricopa County
Arizona, USA
Created by: Stephen Cantrell
Record added: Mar 22, 2015
Find A Grave Memorial# 144022941
---
Carl F. Duerr Jr.
Carl F. Duerr, Jr. 1941 - 2010 SOUTHWICK - Carl F. Duerr, Jr., 69, passed away peacefully with his family by his side, Thursday, December 9, 2010 at UMASS Medical Center, Worcester. Carl was born in Springfield to the late Hermine C. (Enssle) and Carl F. Duerr, Sr. and lived in West Springfield and attended schools there until he graduated in 1960. Carl was an avid baseball player growing up and was a Boston Red Sox fan his entire life. After graduation Carl served in the United States Air Force as a ground radio operator until transferred to special activity squad at Mac Dill AFB in Florida until the end our his tour in 1966. He worked for Springfield Sugar in Suffield, CT for 30 years, after his retirement in 1996 he started to volunteer at the Westfield YMCA and eventually was employed there a few hours a week. Many people were welcomed by Carl at the YMCA; new members were escorted by him through the facilities and introduced to the equipment. Carl leaves his loving wife of 34 years, Christine D. (Leary) Duerr of Southwick. He is also survived by his beloved son, Eric C. Duerr of Southwick, daughter, Renee O. (Stetson) Zborowski and her husband, Douglas and grandson, Jacob of Davie, FL and son, Russell P. Stetson, III and his wife, Mary (Gannotti) Stetson, grandson, Philip and granddaughter, Eve of Granville, MA. Carl also leaves his brothers-in-law, James L. Leary, Jr. and his wife, Mary of Sandisfield, MA, Ronald G. Leary and his wife, Lilli of Enfield, CT, Francis A. Leary of Southwick, Daniel M. Leary and his wife, Cathy of Southwick, and Thomas X. Leary of Southwick, his sisters-in-law, Oleta Baca and her husband, Joe of Hurst, TX, Janice Mahan of Granville, MA and Debra I. Casale of Southwick, MA as well as many nieces and nephews and his 2nd family and many friends at the Westfield YMCA. Family and friends are invited to gather to celebrate Carl's life on Sunday from 2-6 PM in the Southwick Forastiere Funeral Home, 624 College Highway, Southwick, MA 01077. Committal ceremonies will be private and with Military honors in the Massachusetts Veterans Memorial Cemetery, Main St. Agawam. Memorial contributions in Carl's name may be directed to the Westfield Y.M.C.A, 67 Court St. Westfield, MA 01085.
---
Kenneth Lewis
12/21/2011 Kenneth Lewis passed away on the 13th of Dec. due to complications from cancer. (He was diagnosed with colon cancer in Aug.) His obituary can be found at: Heritage of Andover
The family has decided to have his memorial service on Jan.28 (no time has been set yet).
---
Adrian Stubbs Hi Strike Command Buddies,
I am Ken Laumann, Adrian Stubbs friend & ex Air Force buddy of his for 4 years.
Wilma Stubbs called me on the 23rd to tell about Adrians's passing on the 22nd of October, 2009. He had Crohn's disease and needed surgery which did not help. In fact he never left the hospital.
Condolences can be sent to Wilma Stubbs & family, he had a daughter (Cindy) & son (Mark) and grandchildren. We will all miss him and his gentle way of life.

Wilma Stubbs and Family
1306 Rockhouse Rd.
Marion, North Carolina 28752

Thank You.