L
eroy William Rowe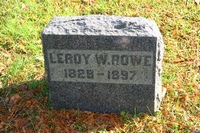 Home: Cherry Creek, New York
Occupation: Farmer
Born: 5 May 1828 Otego, Otsego, New York.
Died: 5 April 1897
Spouse: (1) Huldah Akerly b. 2 June, 1834; d. 25 June, 1867. (2) Mary Jane VanHoeson b.1841 d. 1912
Marriage Date: (1) 19 August 1850. (2) -?-
Father: Nathan Rowe
Mother: Mahala Rowe
C
hildren:
(1)
Gertrude Adelia b. 20 May, 1857 in Erie Pa. d. 18 December, 1893.
(2)
Clara Rowe b. 16 October, 1873
Anna(Annis) Rowe b. 25 December, 1875
Manley Jay Rowe b. 10 November, 1877 d. 9 February, 1899
Elbert Rowe b. 26 December, 1884. m. Ada Scott. son Jack Scott Rowe b. 1917
R
eferences:
History and Genealogy of a Branch of the Weaver Family. By Lucius Weaver. 1928. (found on Ancestry.com)
1880 United States Census.
1880 Cherry Creek, NY. Census.
Highland Cemetery Records.
Family Search.org Record
N
otes:
Buried in Cherry Creek Central Cemetery, NY. (Highland) In 1880, Mahala Rowe was living with Leroy.
---