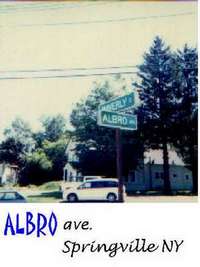 Welcome to the Albro, Rowe, Stone, Weaver section of the Lost Albro Genealogy Pages. The history of the Albro family is very interesting.
We think the Western New York Albro's migrated from Central New York, Pennsylvania and Ohio. We've not found a link yet to any other Albro's.
In our direct line of Albros, family folklore says that Oscar Barney Albro's father, Oliver Albro lived near Akley, Pa. We have found no Oliver Albro in that area, however, we continue to search. It may have been Oscar Barney they refered to.
Oscar Barney Albro had five children, the 2nd oldest son, Howard F. Albro Sr., was our grandfather. Howard married Delia Mae Rowe in 1913.
They had 10 children, the last one "Robert" died this year, 2010. One child, Norman, was adopted by an aunt, by the name of Waterman, to raise. Delia was very sickly after he was born, and not expected to live. As the story goes, Howard Albro Jr. was down town one day and met a boy his age that looked almost alike. They started comparing notes, and discovered they were brothers.
My sister, Patricia and myself, are working on the Albro family tree as it pertains to these locations and ancestors. Please, browse these pages and if you come across a familiar name, someone in your tree, let us know. Maybe we can help each other.
---
Index:
These pages tell some of what we know about each individual. More information will be added as it becomes available. if you find someone you know, please send an e-mail, we might have more info that hasn't been posted yet.
Adams, Stephen
Adams, Betsy
Albro, Betty L.
Albro, Donald Milton
Albro, Helen Etta.
Albro, Harold R.
Albro, Howard Fredrick Sr.
Albro, Howard Frederick Jr.
Albro, Jean Lydia
Albro, Lena May
Albro, Oliver
Albro, Oliver Alfred
Albro, Oscar Barney
Albro, Ray
Albro, Robert N.
Albro, Walter
Albro, William Guy
Bronson, Esther Jerusha
Burns, Elsie M. Albro
Haskins, Winifred Mae
Kerner, Lena May
Rowe, Delia Mae
Rowe, Elias L.
Fitch Hyatt Rowe
Rowe, Frank Nathan
Rowe, LeGrand
Rowe, Lephe (Phillips)
Rowe, Leroy W.
Rowe, Nathan Lester
Rowe, Nathan
Rowe, Robert Nathan
Rowe, Salina Bell
Seagren, Edith
Stone, Cleora May
Stone, Elvira M.
Stone, Myron John
Stone, William Evan
Swift, Belle E.
Thompson, Joshua Hall
Thompson, Albert Howe.
Thompson, Jennie Lydia
Waterman, Della E.
Waterman, Lavina
Waterman, Norman O.
Weaver, Christopher
Weaver, Mahala
Other Albro's
Albro Brickwall Page
---
References & Links:
---